The beauty of life
This article was published in "Credo", the magazine of: LGt Bank in Liechtenstein aG
Text: Franziska Zydek | Photos: Romeo Polcan
Wolfgang Fasser is blind. He is a music therapist who opens the doors of life to disabled children. An inspiring story about hearing and seeing.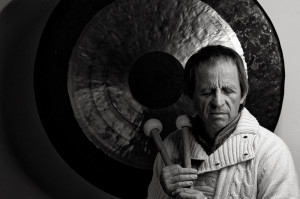 There was a key moment in the life of Wolfgang Fasser that paved the way for everything after it. It happened on a Saturday one autumn in the little Swiss town of Glarus. The bells began to peal, so the local children knew that a wedding was taking place in the church. As at every wedding, they knew they would be showered with goodies afterwards. They ran to the church square, where, in keeping with an old custom, the bride and groom threw candies known locally as "Kirestones" among the people who were there. "I could hear the candies pattering down onto the ground around me and I watched how the other children bent down after them. But I couldn't see the candies as they flew through the air," remembers Wolfgang Fasser. "After the square had emptied I was still standing there. I wasn't in a hurry. With my foot I carefully pushed aside the leaves underneath the chestnut tree in front of the church. And there lay the "Kirestones" that had remained hidden from the others. In this moment I realized with intense clarity that the course of my life would differ from that of my school friends."
Retinitis pigmentosa is a genetic disease that gradually robs you of your sight. Of the five children born to the teacher Adolf Fasser and his wife Johanna, three would go blind. Wolfgang lost his sight at the age of 22, Bernhard at 28 and Christina at 38.
A wanderer between worlds
"My life is geared not to the visible but to the invisible," says Wolfgang Fasser, who is now 57 years old. "It's not my goal to live like someone who can see. I want to be just how I am." Early that morning, he landed in Zurich after arriving back from Africa, where he had spent two months in the highlands of the kingdom of Lesotho, holding further training courses for physiotherapists as he does every year. In the village of Thaba-Tseka, at an altitude of 2500 meters, there is a little hospital where Wolfgang Fasser volunteers as a therapist. He often travels for days on end across impassable mountain terrain in order to visit and treat the sick.
Wolfgang Fasser is a physiotherapist and a music therapist. He commutes between Africa, Switzerland and Italy, between poverty and prosperity, and between archaic, rural structures and city life. "I am used to these contrasts and they don't shock me anymore," he says. "Even though there are huge differences between them, I have friends both here and there who are important to me, and in both places I meet people who touch me deeply."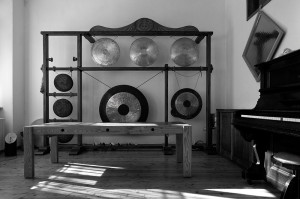 In Switzerland, Wolfgang Fasser lives in the apartment of a friend who is blind like him. He knows his surroundings. He boils water, makes tea, sets the table. He exudes a deep sense of calm. Pot, tea caddy, spoons: everything that he picks up he puts back carefully in its proper place. If you can't see, you have to have order in your life so you can live independently.
The next day, Wolfgang Fasser will take the train to Florence and from there will travel another forty miles to the distant mountain village of Quorle. He has founded a charitable institution there too: "il Trillo", a school for musical improvisation.
The magic of the moment
"Nel giardino dei suoni", in the garden of sounds, is the name of a prize-winning film that shows how Wolfgang Fasser goes about his work. The Italian-Swiss film maker Nicola Bellucci spent many years filming this sensitive documentary. It shows how children with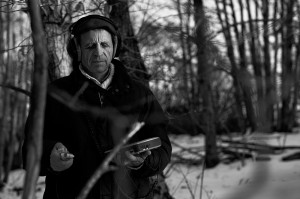 physical and mental disabilities can acquire a connection to the world with the help of music therapy. It shows the astonishing variety of acoustic spaces through which Wolfgang Fasser guides them. And it shows how their personalities can develop through the interplay of sound and touch. The children are at first locked up in a body that won't listen to them, and they have no means of expressing their inner life. But here they discover their own unique potential and a joy in life.
In one scene of the film, Wolfgang Fasser can be seen on his way through a forest one night with his dog and a tape machine. He is going to record animal sounds. You can hear the hoarse barking of a fox and the call of a deer – indefinable, mysterious sounds. Shortly afterwards, the therapist plays these sounds to a patient, a girl who can barely move and cannot speak. While the tape is running, a small miracle happens: the child turns its head in the direction of the sounds. She opens her eyes and utters a sound herself – a sound raw and archaic, like the cries of the animals.
"I am trying to retrieve sunken treasure."
"In this moment, Jenny felt that she was not alone," says Wolfgang Fasser. "She found an echo of her own voice in the voices of the animals." This sound experiment opened the door to the world just a little for this child. The therapist is convinced that "if you observe things very carefully, you can find a common language even under the most difficult circumstances. It might be a note, a touch, a laugh or a concert of birdsong. In that brief second when the contact takes place, something mutual happens. Like a little light that suddenly flares up and brightens the darkness. Achieving this spark is to me a moment of great beauty."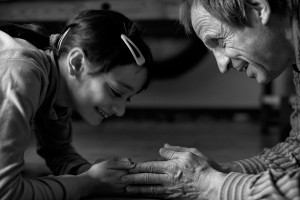 The chronological structure of the film lets us see how this first moment of contact is followed by others. It shows how Wolfgang Fasser is unendingly calm and imaginative as he engages with his patient, over and again, by means of sounds and games. The sum of these encounters results in trust: a relationship is founded. Jenny blossoms. She learns to walk and to use her hands. In an unforgettable sequence, the girl looks into the camera with bright eyes and says, with great difficulty but a sense of triumph: "Now I'm also learning to speak!" The beauty of this child's happy face gets right under your skin.
"I am trying to retrieve sunken treasure," says Wolfgang Fasser. "It can take a long time, but the moment always comes when you see the child and not the disability. That is the turning point! After that comes happiness."
The value of simple things
Wolfgang Fasser's blindness has made him sensitive to everything that is not obvious. Perhaps this explains his empathy with other people. The absence of his sight is something that he interprets as a call to use his remaining senses all the more intensively. "Being blind allows me to perceive the world differently."
His little house in Italy is small. The kitchen has a wooden table, a stone sink, a large fireplace and an oven – all objects of a world that is in easy reach. Next to the kitchen is the study, and you reach the bedroom via steep wooden steps. "I am content when I have little," says Wolfgang Fasser. "I recognize the things around me by touching them. I know their use and their value for my everyday life. If I only possess a few things, I can love every one of them. That makes them beautiful to me. A relationship develops with them when I use them. And this personal connection to them creates harmony. That's how I can love these things."
It's not just practical objects that Wolfgang Fasser has grown to love. He offers examples of things of beauty that surround him, and smiles as he does so: a root, a stone, a little bronze statue, a horn that contains "medicine" against hailstorms – a gift from an African shaman. None of these things have any practical use, but they
are important to the soul, he says. Yet even when it comes to things of beauty, it's still important to Wolfgang Fasser that they are a manageable quantity: "I can't perceive beauty in a multitude."
The search for his own path
Wolfgang Fasser's childhood in the Swiss Canton of Glarus left a deep impression on him. There the Alps surge straight up towards the sky. Ten mountains, each of them over 3000 meters high, surround the narrow valley and cast their mighty shadows over it. Avalanches thunder down in the winter, and fast-flowing streams rush by in summer. Young Wolfgang's childhood dream was to become a forest ranger in this wilderness. "It's impossible with your diagnosis," said his implacable father. "He said no out of love," recalls Wolfgang Fasser. "But it still hurt."
So what was he to do? He could still see, and blindness was as yet the stuff of bad dreams at night. After leaving school he trained first as a laboratory assistant and then as a baker. But each time, his impending disability set a limit to his career ambitions. "The turning point comes when you understand that it's not a defeat if you can't do something," says Wolfgang Fasser. "You are not defined by your limitations. If you can accept that, you've taken the first step on the right path."
He decided to do a four-year training course as a physiotherapist. He wrote his thesis just before he lost his sight. A few days later he was blind. But this young therapist was highly sensitive and talented, and his career took off. Soon he had built up a physiotherapy department at a renowned Swiss clinic and helped to pave the way for new therapeutic techniques. He lived on his own in his apartment, he was earning well and had a lovely guide dog. "I was where I wanted to be, but I didn't know any more where to go because I had already arrived," he recalls. At the age of 30 he asked himself the question: "What am I really here for?" Not long after,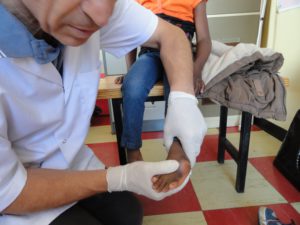 Wolfgang Fasser with backpack and his dog were on a plane with a one-way ticket to Lesotho in southern Africa. He had made a clear arrangement with the doctors' organization for which he was to work. He wanted to be paid enough for basic insurance, board and lodging, but he was adamant that he shouldn't be given a salary.
Wolfgang Fasser landed in the midst of nothing in the harsh, windswept highlands of Lesotho. It was the poorest region of a poverty-stricken country. And there, on the veranda of the hospital of Thaba-Tseka, which was waiting room, transit camp and meeting place all in one, he set up his therapist's couch and started to work.
The beauty of hearing
Wolfgang Fasser moves through life with astonishing speed. As soon as he knows where he wants to go, he seems to find his way with unerring accuracy. This is true not just in an ideal, spiritual sense, but also in thoroughly practical terms. He has learnt to navigate the streets of Zurich, he wanders across the Lesotho highlands and he will soon do the same through the forests of the Toscana. "I never had the impression that I couldn't see anything, because – after all – I can hear"; this is his credo.
"But I didn't know any more where to go."
His love of nature helps him to find his bearings. "Just like when I was a child in the mountains, I pay attention to all the sounds that surround me," he explains. "I make a noise with my stick and its echo is cast back to me by stones and house walls. I register the sound of the wind whistling round a corner. I notice that blackbirds are singing in a particular tree. This is how I save a map of my surroundings in my memory, and it is made up of the most varied noises and sounds."
If you take up Wolfgang Fasser's invitation to close your eyes for a moment and concentrate in complete stillness on the acoustic markers of your environment, you will be surprised. There are sounds that swell up and die away again, traces of noise, scraps of conversations, fragments of music, the sounds of bells, and birdcalls answered far in the distance. All these sounds are on the move and form a confusing multiplicity of the most varied acoustic signals. "The world of sound has its own landscapes," says Wolfgang Fasser with a smile. "In the same moment that the eye loses its dominance, you can begin to listen. Over time, aural pictures of incredible beauty are formed inside you."
Following the call of life
The years in Africa have left their mark on Wolfgang Fasser. He was touched deeply by his many encounters with people who were for the most part incurably ill, yet still exuded so much cheerfulness and a lust for life. He also changed as a physiotherapist. In the little hospital of Thaba-Tseka, which lacked everything that constitutes modern medicine in Switzerland, Wolfgang Fasser realized that the most important aspect of his work is his proximity to the patient. He acquired a new perspective from all that he experienced: "Healing is not the same as repairing. It's an act of unfolding human possibilities."
Armed with this new knowledge, he returned to Switzerland. But nothing would be the same again. After his deeply felt contact with the simple life and the poverty of Lesotho, his everyday life in Zurich seemed unbearable to him. "What's most important in the Western world are your salary, getting recognition and your social position. What you earn determines the value of your work," he says. "In Africa it's different. All that counts there is that a patient suffers less." Again Wolfgang Fasser asked himself the question: "What am I here for?"
"All that counts
there is that a patient suffers less."
A letter from an Italian friend brought him the answer. "I'm expecting you, and soon!" he wrote, short and sweet. To Wolfgang Fasser, these few words seemed like the call of life. He packed his things, took his dog and moved to his friend's home region, to Quorle in the mountains of the Toscana. He felt at home in this out-of-the-way area and worked here as a physiotherapist for a minimum wage.
Music at last!
In Africa he once had a dream. In one hand he was carrying a black case in which there was a saxophone, and in the other he held the leash of his dog. He had the dream a second time, but this time the saxophone lay shining in a poorly lit rehearsal room. Wolfgang Fasser finally learnt to play the instrument when he was in Italy. He now felt that the time was ripe to expand his career into music. So he signed himself up for a four-year part-time course in music therapy at the Pro Civitate Christiana in Assisi.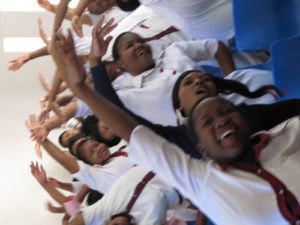 As if of their own accord, all the pieces in the jigsaw puzzle of Wolfgang Fasser's life came together to form a unified picture: his experiences as a physiotherapist, his inner images from the cosmos of sounds, his love of nature, his desire to give warmth and love, his belief in the potential of human possibilities. Wolfgang Fasser founded his workshop for musical improvisation, "il Trillo", in 1999. Today he works with disabled children at the school alongside two other experienced music therapists. "We don't ask for any wages, just a small contribution to our costs. The therapy can often last for several years, and this means that truly all parents can afford it," says Wolfgang Fasser. Sponsors in a support association pay the rent and heating costs.
Another dream has come true for Wolfgang Fasser: he is making music! Together with the Shalom Klezmer Quartet he plays Jewish folk songs everywhere that people come together: in theaters, in children's homes, at weddings and at fairs. There you'll see Wolfgang Fasser with his saxophone, his red beret on his head, standing among a crowd of happy people, playing to raise the roof. And it's a picture of great beauty.
Franziska Zydek lives by the lake of Zurich and in the mountains of the Grisons. She likes most of all to write about people and their path through life.
Giving something back to society
Wolfgang Fasser has founded two charitable institutions that are designed to help other people free of charge. The association "il Trillo" provides music therapy to disabled children in the mountain region of the Toscana, and the "Lesotho Project" offers advanced training for physiotherapists. For information on both projects, Wolfgang Fasser's books and other activities, see: www.wolfgangfasser.ch
Fraternità di Romena
Wolfgang Fasser is the co-founder of a lay Christian movement whose goals include offering individuals and families a place of quiet, away from the hustle and bustle of everyday life. Wolfgang Fasser is responsible for the movement's "house of quietness": www.romena.it
"Nel giardino dei suoni"
This film by Nicola Bellucci can be ordered on DVD at: info@wolfgangfasser.ch
Shalom Klezmer
This quartet plays music that makes you want to tap your feet and that warms your heart: www.shalomklezmer.ch