Our physiotherapy
30 years of clinical experience in applying physiotherapy in rural hospitals, in health centers and on community level helped us to formulate and promote a certain type of physiotherapy. We could call it "allround suitable" physiotherapy. This means a safe and effective application of physiotherapy skills by trained people, using mainly human and natural resources.  In areas where qualified physio-therapists are still missing the physiotherapy skills can be taught and offered to patients who can benefit of it. We developed typical treatment programs for common clinical conditions. Some of the specific physiotherapy matters were translated into our conditions.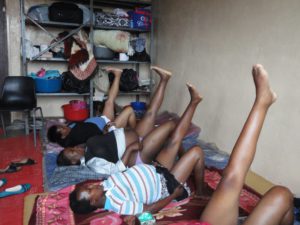 On this website you will find many of these topics in the link "Library". We would like to share our experience and appreciate comments from you, wherever you are. Living in a mountainous region, we enjoy a rich variety of traditional herbs. Some can be used safely to sustain physiotherapy treatments. Aloe vera jelly helps in the treatment of painful joints, steeping inhalations of wild mint is often used in respiratory physiotherapy and we produce our massage ointment with periperi powder, resin of the poplar-tree, sunflower oil and beeswax. Find more in "Libraray and also Videos".
A new booklet is ready for you:   VHW Booklet 
This booklet has also been translated to Sesotho:   VHW Sesotho booklet
Newsletter
Our department publishes a newsletter, twice a year. We keep in contact In a simple way, people who come to study in our workshops and people who come from far away. Subscribe to our newsletter on this website. If you wish to receive the newsletter by conventional post just send an e-mail to: info@wolfgangfasser.ch
You can download all the newsletters on the website – just click on "newsletters".
Networking
The physiotherapy department of Paray Hospital offers a platform to discuss and develop safe and effective application of physiotherapy in rural hospitals, health centers and communities. Therefore we organize national and local workshops and publish our material. We reach out for cooperation with others in this field. Please don't hesitate to contact us. We are grateful to a group of experienced physiotherapists and doctors who offer their expertise to us.
We thank you all for your interest and encouragement.